LOCO Half and Full Marathon
Course Info:
Interactive link: click here
The Half and Full Marathon r
ace day festivities are held at the beautiful Rockingham Ballroom.
The Ballroom is set in a park-like setting, resting on the edge of the Rockingham Golf Course.
This is an ideal rural course passing through four small towns located near the coast of New Hampshire. Not only is it a scenic course, it is designed to be ultra-fast.  There are just the right number of flat sections, a few rolling hills to help you use different muscles, few turns to slow down on and a spectacular 3 mile section on the Rail Trail.
The course is two loops of 13.1 miles. The first 10 miles travel along all rural roads with plenty of shade and scenic vistas.
The elevation of the course starts at a base of 60 feet and has a maximum elevation change of less than 100 feet.
The first three miles are rolling and take you on a shaded road to Lee New Hampshire. There is then a nice almost totally flat section on Wadley Falls road until mile 5.  Next is a gentle incline on Campground Road into Epping.  If you are lucky you will see a pair of Clydesdale horses grazing at the Clarke Farm. Next you will travel shortly through Newmarket on Grant Road with a small hill, then onto Bald Hill Road. Luckily Bald Hill road is gently rolling and "Bald Hill" is off to your right. By mile 1o you are ready for the Rail Trail.
The last 3 miles on the Rail Trail are a welcome treat for your legs.  The Rail Trail is a raised bed covered with cinder and crushed gravel. It is relatively flat with very gradual almost imperceptible gradual downhill sections.  It passes beaver ponds and unspoiled woodland. The Rail Trail is used by runners all year round and the LOCO guy often uses it for speed work or tempo runs. The trail can support 2-3 runners across in most locations and has good footing.
The date of the race in late October is ideal temperature wise, as well for those that want to enjoy the foliage on the Coast which is normally at it's peak.
A special thanks to the New Hampshire Division of Parks and Recreation for the use of the Rail Trail: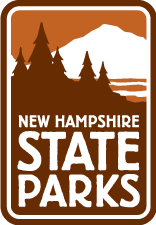 More info on the Rail Trail: Click Here
Course subject to final approval by local municipalities and DRED